The Real Brazilian Music at JZ Club
Address
: No.153 Yanjiang Avenue Jiang'an District Wuhan
Begin Date
: Sep 21, 2015
Detail
The Real Brazilian Music
Drums:

Leonardo Susi
Percussions:

Marco Bosco
Bass:

Sergio Brandao
Piano:

Joao Mascarenhas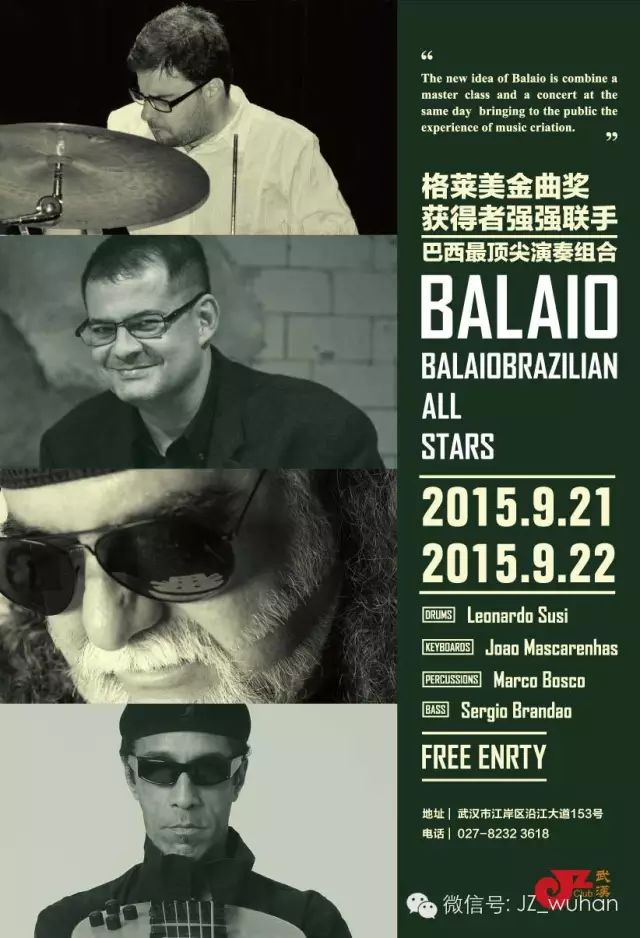 演出时间:9.21 / 9.22 晚9:30
Time: 9.21 / 9.22 9:30 pm
地址:汉口沿江大道153号 / 合作路口
address:No.153 Yanjiang Avenue, Jiang'an District, Wuhan
免票入场
Free entry
鼓手:Leonardo Susi




巴西著名鼓手和打击乐手,师承多为巴西著名打击乐大师,如Maestro Nelson Ayres, Hermeto Pascoal等 ,他经常与来自世界各地的优秀音乐家一起工作,同时他也是很多位亚洲明星演唱会现场演出打击乐手如陶喆,莫文蔚,王力宏,林俊杰,顺子,黑眼豆豆等著名歌手演唱会打击乐手,《中国好歌曲》《中国梦之声》现场大乐队打击乐手,精通爵士鼓以及各种巴西打击乐的演奏,列奥纳多作为非常重要的打击乐手经常活跃在亚洲,欧洲和南美!


Drummer and percussionist, Leonardo Susi was born in 1975 in a small city near by Sao Paulo called Brotas. Leonardo Starts his studies in 1991 with a teacher called Rogero Chiarinelli and therefore after, started a Conservatory of Music in Tatui, SP-Brazil.Took lessons from great names of Brazilian music as: Maestro Nelson Ayres, Hermeto Pascoal, Marcio Bahia, Guello, Maestro Paulo Braga and Maestro Cesar Camargo Mariano. Also had lessons with Simon Philips drummer of Toto. Back in Brazil, gave class for 280 children in a public music school and worked in music clubs with different artists and bands. Based in Shanghai since 2003, Leonardo has been playing in very important Jazz Festivals and Jazz clubs as Percussionist and Drummer around Asia, Europe and South America.Leonardo has been working with finest musicians from around the world. Back in Brazil played with great names such as Gilberto Gil, Toninho Horta and the pop Singer Daniel. In Asia and Europe, Leonardo has been working with great artists as well, names like, Dee Dee Bridgewater, Penfei, Karen Mok, Shunza, David Tao, JJ ling, Will I Am from Black Eye Peas, Coco Lee, John Legend, Laura Figy, Dadawa (Zhu Zheqin), the Grammy Winner maestro and composer Tan Dum, China Moses, the great French singer and leaving legend Charles Aznavour to name a few.Leonardo played at the 2015 Golden Melody winner album Night Cats composed by the great violinist, composer and arranger Penfei. Leonardo is a permanent percussionist of Chinese Idol and Sing My Song. Leonardo can be seen playing as sideman and leading as well in all of the most traditional jazz venues in China. Leonardo is well knowing for the versatility and creativity as drummer and percussionist.
贝司手:Sergio Brandao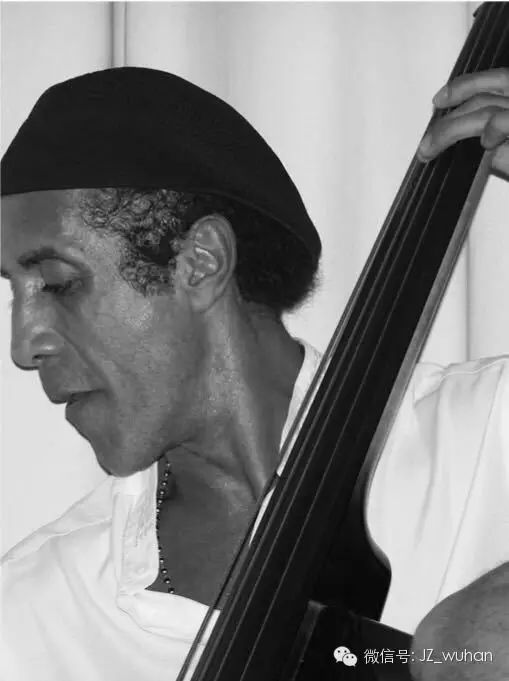 出生于巴西里约热内卢。自11岁起开始弹奏民谣吉他。17岁改弹大贝司,不久之后又开始电贝司。他曾就读于著名的海特尔维拉 罗伯斯学院,在那里学习了乐理知识。其20出头在里约生活时,曾参与JOAOBOSCO、Ivan Lins、Johnny Alf 录音和演出活动,使得其乐器运用技巧更上一个台阶。

1980年,布兰达奥为了进一步地在音乐方面发展,移居纽约。后来迅速成为纽约最有名的巴西和拉丁风情贝司手。且参与最有名的爵士乐的录制。1982年,在其加入Flora Purim和Airoto之前,曾与Jan Lucien合作进行演唱会和唱片录制。后与Florapurim 和Airoto开始了长达三年的演唱会和唱片录制合作,在85年、86年,自己也成为了莎莎和桑巴全明星之一。在美国的那些年是布兰达奥事业发展的最佳时期。

在80年代末,90年代初时在继与Herbie Mann、Chico freeman、Delmar Brown、Nana Vasconcelos、Trilok Gurtu 、Taania maria 合作后与Paquito D'Rivera合作。


Born in Rio de Janeiro. Brandao began playing acoustic guitar at age 11. By 17 he switched to acoustic bass and shortly after electric bass. He attended thefamous Villa Lobos Institute in Rio where he studied music theory, Spending his teens and early twenties in Rio he refined his instrument and technique while performing and recoding with Joao Bosco, Ivan Lins and Johnny Alf. In 1980 Sergio made the move to New York to expand his musical knowledge and immediately became the most sought bassist on the Brazilian and Latin scenes in New York . He was quickly picked up by some of the top names in jazz to tour and record. In 1982 joined Jan Lucien with whom he toured and recorded before joining Flora Purim and Airto in 1984. Sergio Brandao collaborated with Flora and Airto for three years touring and recording in addition to being an integral part of the Salsa Samba All Stars in 85 & 86. This high-profile group included the likes of Jaco Pastorius, Michele Camillo, Claudio Rodito, Flora and Airto an other top names in Latin music. Sergio Brandao establishing himself as the best in his field throughout these formative years in the U.S. In the late 80's into 90's he joined forces with Paquito D'Rivera, after which he hooked up with Herbie Mann, Chico Freeman. DeLmar Brown, Nana Vasconcelos and Trilok Gurtu in Bushdance, Tania Maria and others. RECORDED, COLLABORATED AND PERFORMED 'WITH: Flora Purim and Airto Moreira, Paquito d'Rivera, Jon Lucien, Nana Vasconcelos, Ivan Lins, Tania Maria, Gato Barbieri, Herbie Mann, Toots Thielmans, Jorge Dalto, Randy Blecker, Chico Freeman, Carlos Franzetti, Dom Um Romão, etc.
钢琴:JOAO MARCOS MASCARENHAS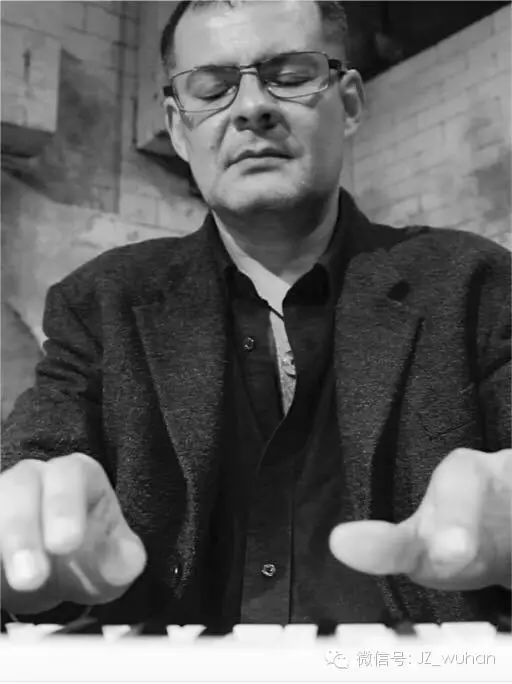 马科斯出生于巴西贝伦市,是知名作曲人、音乐制作人、爵士乐演奏者。巴西、拉丁、现代流行音乐风格。在巴西,马科斯与国内外的著名艺术家和乐团都有合作。包括Amazon 爵士乐队、Theatro da paz 交响乐团、圣保罗爵士交响乐团和pauloAndre Barata 和美国You records. 在法国,他担任几个巴西音乐团队的宗总监。

2003年取得了密苏里大学的全额奖学金,并完成了音乐制作研究生学位的学习。2005年,前往越南(胡志明)与越南的萨克斯大师合作完成两张CD,在那之后,以作曲人的身份搬至澳门。2007年,开始在香港大学攻读音乐作曲博士学位,目前正在研究音乐作曲和即兴创作的认知、学习和创造的过程。


Joao Marcos Gomes Mascarenhas was born in Belem, Brazil. He is an established composer, arranger, music producer, and performer specializing in jazz, Brazilian, Latin, and contemporary pop music genres/style. In Brazil, Joao's impressive collaborative record includes a string of esteemed national and international artists and orchestras, including the Amazon Jazz Band, Symphonic Orchestra of Theatro da Paz, Symphonic Jazz Orchestra of Sao Paulo, Paulo Andre Barata, and You Records (USA), to name but a few. In France (Paris, Clermont Ferrand,) he directed several musical groups specializing in Brazilian music.In 1999, Joao moved to Boston, USA, after receiving a full scholarship from the Brazilian Government and the Berklee College of Music, Boston, from which he graduated with bachelor degree in jazz composition in 2001. After graduating from Berklee, Joao moved to Hong Kong in 2002, where he was Musical Director of two Brazilian jazz groups. In 2003, Joao was awarded another full scholarship at the University of Missouri, USA,where he attained a Master's degree in music composition. In 2005, Joao went to Vietnam (Ho Chi Mihn), to collaborate in two CD's with famed Vietnamese saxophone master, Tran Manh Tuan. After Vietnam, he moved to Macau, where he worked as a performer and arranger. In 2007, Joao began his PhD studies in music composition at the University of Hong Kong, where he is currently researching the cognitive, learning and creative processes in music composition and improvisation.
打击乐手:Marco Bacso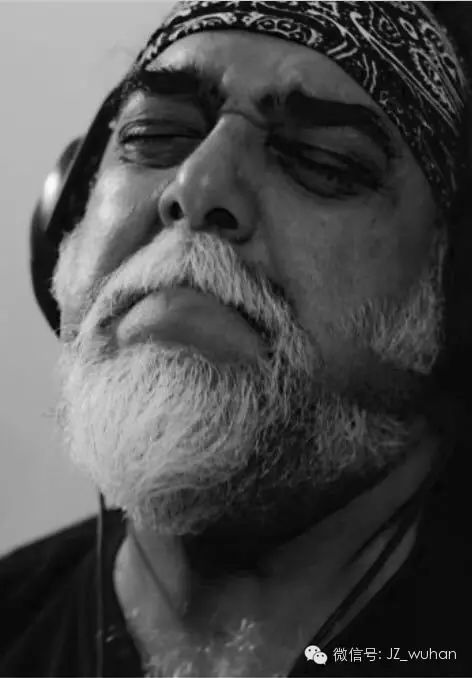 马尔科.博斯克来自巴西圣保罗州托里尼亚市的打击乐器乐手、艺术指导以及制作人。曾获得2009年美国格莱美奖以及2012年格莱美拉丁提名奖。发行12张个人专辑,他曾在欧洲、亚洲以及北美与众多知名艺 人有过现场演出或专辑录制合作。 作为制片音乐人,马尔科.博斯克还与其他著名音乐人共同合作进行专辑、舞曲制作,与影院以及超过500家的当地、国家、国际电台和电视广告合作。


From Torrinha city, in São Paulo state Marco Bosco, a Brazilian percussionist, artistic director and producer, American Grammy award-winning in 2009 and nominated for aLatin Grammy Award in 2012. With 12 solo albums, also worked in live or recording with Egberto Gismonti, RogérioDuprat, Raul de Souza, Sebastião Tapajós, RPM,Wanderlea, Raul Seixas, Toquinho, Simone, Baby doBrasil, LucinhaLins, Adoniran Barbosa, Zé Geraldo, Renato Teixeira, Pena Branca&Xavantinho, Sá&Guarabira, César Camargo Mariano, ZéRodrix, Ivan Lins, Rita Lee, Caetano Veloso,ElzaSoares, Zélia Duncan, Sandra de Sá, Moacir Santos, Leila Pinheiro, Chico Buarque and others.He worked in Europe, Asia and North America with: Tsuyoshi Yamamoto, Hank Jones, Sergio Mendes, Ana Caran, Tania Maria, Paul Jackson, Sadao Watanabe, Cesar Camargo Mariano, Leila Pinheiro, EikiNonaka, Sepultura, Roberto Menescal, Airto Moreira, Flora Purim, Nina Simone, Gary Bartz, Dr. John, Duran Duran, Personal Life, Fred Wesley, Nick Wood, Nina Simone, Randy Brecker, Ronnie Cuber, ToninhoHorta and at Japan National Radio and TV, among others.As a studio musician, worked with recognized professionals in the production of albums and tracks for dance, cinema, and theatre and also participation in approximately 500 radios and television advertisements in local, national and international campaigns.
Tiantian
Send msg
Add friend
Joined:Jul 24, 2015
Login:Nov 11, 2015