Wuhan Hackathon!
Begin Date
: Nov 04, 2016
Detail
Wuhan Hackathon!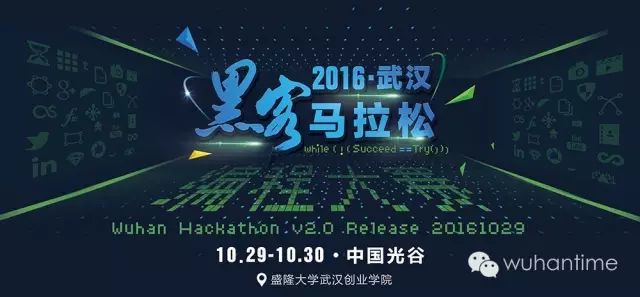 Hackathon (also known as hack day, hackfest or codefest), originated in Silicon Valley, is a popular design spirit-like event in which top coders, developers, project managers, designers and others, collaborate intensively on projects. Google, Facebook, Uber, Tecent, Alibaba, Baidu as well as some other companies often host a company hackathon within their companies. Twitter itself was born from Hackathon.
In 2016, guanggoo.com, cooperating with some other Wuhan well-known internet companies, will run the 2nd Wuhan Hackathon. It will invite more than 200 contestants, including 40 teams with programmers, designers, creative people and product managers. The competition consists three parts: Ideas Collection, Program Developing, and Demo Presentation. Participants will enjoy the 32-hour coding game with a decent place, drinks, snacks and meals. Winners will get chances to win cash awards.
The 2nd Wuhan Hackathon will not confine to any specific programming languages, API, or frameworks. All the participants are free to choose related techniques to solve the problem. On 2016.10.29, Wuhan Hackathon V2.0 will be Released!
Apply Now! Join us and just bring your laptops, with your teams or find your partners on site, then enjoy the 32-hour coding game and turn your ideas to demo. You will make something brilliant!
To join please click 'read original text'at the end of the post, or simply visit :

http://www.guanggoo.com/Hackathon2016
WuhanTime is the official media partner of Wuhan Hackathon
黑客马拉松(Hackathon)又称"编程马拉松",起源于硅谷,是一项流行于程序员中的热门活动。 Google、Facebook、Uber、腾讯、阿里、百度等公司经常举办内部的编程马拉松,甚至Twitter本身就是Hackathon的产物。
2016武汉黑客马拉松由光谷社区,联合SendCloud,ThoughtWorks,盛天网络等武汉多家知名IT互联网公司共同发起的开发者编程大赛,今年第二届,将邀请200名参赛者,40支战队,程序员、设计师、创意人士和产品经理齐聚,多家本土优质IT互联网公司助力。比赛形式包括头脑风暴、编程开发、Demo展示三部分;通宵32小时,免费餐饮,奖品丰厚。
本届比赛采用开放式命题标准,不作技术上的限制,多样化,提供多种不同的方向,使参赛者有足够的自由发挥的空间。
武汉黑客马拉松V2.0有什么好玩?2016.10.29 Wuhan Hackathon V2.0 Release !
欢迎来看!欢迎来战!
wuhantime.com/events

Share your events with Wuhan!
www.WuhanTime.com
English web portal of Wuhan city since 2004
Keeps bringing you an exciting Wuhan
武汉国际人士社区 武汉国际文化交流门户
关注本微信公众号,关注不一样的国际范武汉
微信扫一扫
关注该公众号
tangier
Send msg
Add friend
Joined:Dec 20, 2015
Login:Mar 21, 2017